July 26, 2020
7 Best THEMES FOR MULTI-AUTHOR WORDPRESS BLOGS
What can't you do with a little team effort?
Cue inspiring music…
Alright I'll stop.
But honestly, for long-term tasks like publishing quality content, consistent with the golden SERP rating, teamwork is basically the only way to succeed. One individual simply can not 'produce' a major post about something 24×7.
In order to attract more readers and offer a diversity of writing formats, most blogs in any niche tend to publish material from a diverse community of writers / contributors. In return, the contributors get a 'by-line': they get publicity, readership, and maybe a reference back or more from the post.
The last part (giving attention to the contributor) may not be possible on a WordPress blog right out of the box. WordPress doesn't have an author page, at least not yet. I 'm referring to you, potential core WordPress update teams.
1. SIMPLEMAG
SimpleMag is packed with Visual Composer, a customizable drop-down mega menu, a click-to-open hamburger menu for mobile, multiple layouts for the homepage and categories, and a smart footer that sizes up/down automatically depending on the widgets placed inside it.
The theme is translation ready (and WPML compatible) with RTL support, optimized for SEO with Schema microdata and quick load times, and supports WooCommerce, bbPress, and every major SEO plugin you can think of.
It's endlessly customizable with special widgets and a shortcodes plugin, along with hundreds of fonts and colors. The coup de grace is the beautiful author page template and custom widget.
2. METRO PRO
PRICE: $99.95 (THEME + GENESIS FRAMEWORK)
Metro Pro is one of the StudioPress' more recognizable themes.
The modernistic, lightweight (always a given with Genesis), superbly responsive magazine theme comes with 5 pre-built color styles, 6 layout options, a customizable background and header, 4 Homepage widget areas, and custom page templates (Archives, Blog, landing pages, etc.).
What makes it perfect for a website with multiple-authors' contributions are the sleek social features built in and the beautiful code, which makes it an absolute joy for a developer. And you can count on it to be fast and highly SEO-friendly… because, well, Genesis.
3. NEWSSTAND
Newsstand means business.
This highly configurable theme will put almost every design configuration at your feet to take your pick from. It has Page Builder, 3 different slider settings, customizable headers (with social links added), easy demo import, special landing page, testimonials, and personnel templates, endless color options and (customizable) sidebars, floating (optional) navigation, Font Awesome (icons), Google Fonts (and a font uploader), and so much more.
It's pretty much the whole package, with performance and SEO optimized code.
4. EXTRANEWS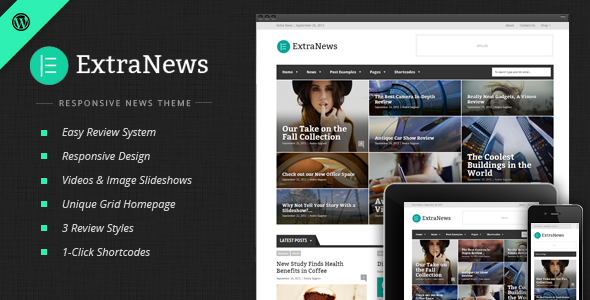 PRICE: $59  Buy Now
This compact, chic, ultra-sleek theme speaks class.
ExtraNews is everything you need and more, built into one awesome package: a Review System (with multiple display options), Dynamic headlines, and Schema microdata.
The translation-ready theme packs it all: Google fonts, multiple layouts for blogs, sidebars, and site width, amazing author pages, built-in widgets for related posts and social sharing (and 7 more), contact form, child theme, and more.
It's fast, it's modern, and it looks as clean as they come.
5.  CHIRPS
We are in love with this bite-sized powerhouse called Chirps.
There's just so much this theme does, it's mind-blowing: it's highly customizable with every design element you could think of – icons, fonts, templates, sidebars, headers, colors, fabulous shortcodesand more.
It has a powerful review system, complete with special templates and 4 review styles. It has enhanced built-in SEO features (important content, Schema microdata, internal linking, speed optimization, etc.). It's translation ready (with RTL support). It is built for writing with alternative titles, multi-page articles, stunning post templates and category pages (optional AJAX), and more.
After this one theme, you wouldn't want anything else for your blog.
6. MULTINEWS
Multinews is agile and efficient. 'Nuff said.
With its powerful page builder, reviews and ad systems, highly customizable mega menu, 2 superb slider plugins, advanced category options (and slider), and more, you are covered for all your needs.
There are all the aesthetic configurations you have come to expect from premium WordPress themes: hundreds or straight up unlimited sidebars, colors, fonts, icons, and more. There are multiple templates for every page and its portions, special widgets (social, weather, recent comments, related posts, soundcloud and more), animated shortcodes, advanced search forms, and just so much more that I'm running out of space.
Check it out for yourself and you'll see why. It's the perfect theme for anyone who can take matters into their own hands. Someone who won't be boggled by all the fine configuration options at their fingertips…
7. QUADRUM
This theme is my personal favorite.
The Quadrum is simple and elegant, with just the perfect balance between functions, options, and user-friendliness.
The theme packs Orange-Themes' block-style page builder (fun to use), slider and visual composer plugins, build-it-yourself (therefore, infinite) homepage layouts, a lovely ratings system, banner system, mega menu, and custom templates (archive, posts, error 404, contact us, etc.) and countless more customizations in the form of colors, fonts, icons, sidebars, shortcodes… the usual.
I love this translation-ready, WooCommerce-compatible theme for its clean design and well-optimized code. It loads fast and it lacks nothing at all.
Which theme (s) do you like the best for your multi-author WordPress blog? Tell us in the comments below.