June 1, 2022
24 Best Free Online Logo Maker Sites
A Logo is a strong identifier when you register or start a website or blog; it can be a company's tagline, name, or an emblem that interacts with the website's theme. A logo that helps people recognise your firm, but its creation is not a simple process. You must hire experienced designers at a cost of several thousand dollars. There are a variety of free online logo maker websites and tools that enable you to create your own appealing logo.
In other words, if you want to build your own personalized logo for free without paying experienced designers, there are numerous free online logo makers available to assist you.
There are free online logo making sites that can assist you in creating a professional logo, however not all of those online logo making sites are free; some charge a fee for logo design.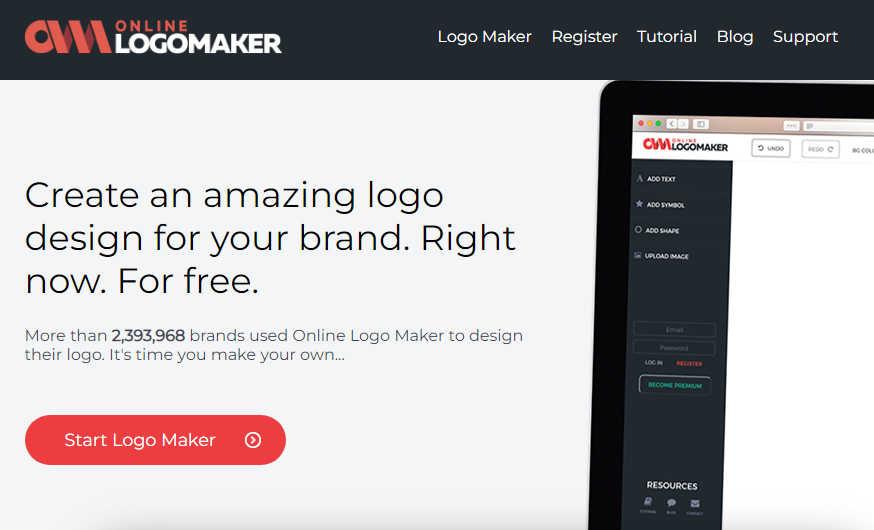 This is one of the best sites to build a logo online for free, and it is my favourite. It requires no technical design expertise. This website allows you to easily enter your company name, insert various shapes, add photographs, etc.
You can save your design with a free account and return to it later. Enjoy unlimited downloads so that you can modify your logo at any time. Online Logo Maker provides both a complimentary and a paid service. The Premium Package provides higher resolution downloads and the ability to export your design as a transparent (.PNG) or vector (.SVG) file, making it simple to use your logo everywhere.
Price: If you want the high-resolution version of your logo, it will cost you $49, but you can get the standard version for free (500 pixels wide).
Hatchful is a logo maker site which is easy to use and allows you to create your logo according to your tastes. Simply select your industry and a graphic style to inform the logo generator of your choices.
Now, Hatchful will generate a variety of logos from which you can choose. Choose the logo that best meets your demands, and modify it to your heart's content. You can adjust the font, color, icon, and layout until you are satisfied with the outcome.
Answer a few easy questions, and Wix logo maker will design a logo for you. You can modify colors, fonts, text, and sizes to your liking.
You'll get a free bespoke logo and complete commercial rights (meaning you can use it for business and profit without worrying about who holds the license). You can obtain SVG logo source files to use on business cards and t-shirts.
Tailor Brands is a robust, all-in-one graphic design tool that will assist you in creating a distinctive, personalised logo for your business. The method of logo development is based on a quiz in which you answer questions about your brand, industry, and preferences. As soon as you finish the quiz, your logo will be complete. Tailor Brands will give you a variety of alternatives from which you may select your preferred option or modify your logo till you are satisfied.

Choose your desired logo design, font type, and colours to get started with Designmantic's free logo generator. Next, input your company's name and choose from more than 30 industry categories. When you locate a logo that you like, you can modify the colors and font.
Although the tool is free, there is a cost for downloading your design. This means you will receive a vector-based, high-resolution file for large-scale printing. Unfortunately, unlimited downloads are not available on this website. If you do not wish to pay the download charge, it might be an excellent resource for finding ideas.
Design Mantic is another free logo creator that offers a free custom logo. You can select from a variety of categories such as Art & Photography, Education, Insurance, Home & Garden, and many more. You don't need any specific design skills to make a free logo on this site.
DesignEvo, one of the top logo-creation programmes, allows you to choose from over 10,000 templates to create a unique, distinctive logo.
The application also facilitates the design of logos. Simply hover your mouse over a template and click the "customise" option to edit it.
DesignEvo will now direct you to its online logo design software, where you may modify the template's backdrop, icon, text, and form.
After making modifications, you may preview how the logo will appear on your website and marketing materials. You may also store designs to the cloud so you can access and modify them from any location and device at any time.
Shopify provides a vast array of solutions for online enterprises, including the tools necessary to launch your own online store. Shopify provides a variety of free tools, like a business name generator, QR code generator, and, of course, a free logo builder, despite the fact that some of these services need a monthly cost.
With this do-it-yourself logo generator, you have access to numerous contemporary fonts, symbols, and frames.
Graphics Spring is another excellent online logo maker. Food and beverage, abstract, letter-based, education, animal, and many other logo kinds are available depending on your business.
If you are not satisfied with their logo maker, you can engage someone from their staff to create a completely custom logo.
The flexibility to express your creativity is one of the many advantages of using Graphic Springs. For instance, if you want to begin completely from scratch, you can choose the form or symbol for your logo all by yourself, or you can add a personal touch of elegance to it.
If you want greater creative freedom with your logo design, begin with the shapes and symbols, or utilise them to decorate your logo. Although the software is free to use, downloading your completed design as a PNG, SVG, or JPG costs $19.99. However, unlimited revisions and downloads are included if you decide to make changes in the future.
Vectr is comparable to a simplified version of GIMP. This logo design programme does not require design skills, but it is more advanced than the alternatives listed above.
This tool allows you to work online or download it for free to your computer, which is really convenient. Even live editing is available, allowing you to collaborate and share your progress with a team.
Canva has been delivering both free and paid designs for social media photographs, flyers, invites, and business cards for quite some time. In addition to their excellent selection of layouts, they also provide a number of free and paid logo solutions. Start with one of their free templates and customise the text, colours, and fonts to reflect your identity.
You may also upload your own graphics or choose from Canva's free collection, then edit your images and apply gorgeous filters.
Don't like what you see? Upload your own images or select from Canva's extensive library of free elements to add to the logo template using the drag-and-drop tool. Your design can be downloaded as a PNG, JPG, or PDF. Utilize the website to generate letterheads, business cards, and other materials with your free logo.
The best part is that you won't have to pay any more money to have the logo in high resolution. Another fantastic free logo maker that doesn't call for any prior design skills from its users.
Logo Garden was founded in 2011 and is a free online logo generator that allows users to design original logos in a matter of minutes. Logo Garden offers thousands of samples that are applicable to a wide variety of industries.
With over one thousand brand icons and layout options, you can rapidly create a logo and establish the identity of your brand. The beautiful part is that you can quickly design your logo for business cards, websites, T-shirts, coffee mugs, smartphones, and any other place you wish to display it.
If you are unable to locate an online logo builder that meets your demands, you can create your own logo in Photoshop using pre-made designs.
Websites such as Envato and Creative Market offer an extensive assortment of customizable logo templates from which to choose. You will need Photoshop and the ability to alter designs within the application. However, once you do, the logo templates on these platforms are of great quality, ensuring that you have a beautiful logo that resonates with your customers.
Try Ucraft if you've gotten this far down the list and still haven't found a site that meets your logo design needs. Ucraft is a website builder that provides online templates, cloud hosting, and other features. In addition, they offer a free logo maker as a bonus. Like the other free tools on the list, creating a logo with UCraft's free logo builder is as simple as selecting an icon, adding your company name, and modifying fonts and colours.
Make a logo with a broad array of symbols, shapes, and text by putting them all together. You can have your very own custom logo designed and ready for use in about ten minutes with the help of this user-friendly logo maker.
LogoMakr is a user-friendly software programme that makes it simple to drag shapes and text to the desired location. Start by searching for shapes and icons, then modify your colours, size, and other attributes. Add text and arrange it whatever you'd like, while also adjusting the font, size, and colour. A clever crop button allows you to precisely crop your logo.
When you are satisfied with the design, simply save it to your computer. There is a free download option, but it comes with restrictions, such as low-quality files and an agreement to give credit to the website for your logo. Download a high-quality version without credits for your website, business cards, T-shirts, and more for just $19.
LogoTypeMaker is a free logo maker site that allows you to build your own logos in under two minutes. Simply type your company's brand name here and click the produce logo button. Following that, it offers a variety of free and customizable logo designs.
You can choose a logo design category based on your industry, change or customise the logo, and get your logo for free. You can also modify the colour, size, font size, and shape, as well as experiment with positioning and art.
Price: $0 cents. Paid plans with more logo possibilities demand a $24.99 or $39.99 one-time purchase.
Free Logo Design makes it simple to create a free logo. Simply enter your company's name and select from twenty different categories to explore hundreds of free logo templates. Make your own modifications to the colour, shape, and typeface, and then download the design for free. If you decide to invest more in your logo in the future, you can download a high-resolution version for $40.
Logo Snap is yet another free online logo maker website that allows you to create a variety of beautiful logos with effective design. It can help you build a logo in three simple steps.
The first step is to choose or select your profession's category.
The second step is to select your design style or emblem.
Finally, you can personalise your logo to your liking. Once you've finished customising, you may either save or download. You can do this by logging into your account.
Zyro is a free logo generator that prioritises simplicity. You will not be required to create an account or perform any more steps to begin.
First, provide your brand's name and slogan. Choose the shape that will serve as the foundation of your logo. You have access to thousands of alternatives; simply enter a keyword to get started. You may finally modify your logo. Adjust the placement of your name and slogan in relation to the shape, as well as the font, colour, and size of the text. Download the PNG when you're finished and use it anywhere, from your website to your business card.
Logaster is an online logo generator that allows you to generate a logo in a matter of minutes. Here you may browse thousands of logos, all of which can be customised in terms of name, slogan, business kind, and colour.
It is one of the greatest online logo maker site, allowing you to build your own logo in a matter of minutes. You will find hundreds of logos here, all of them are adjustable in terms of name, slogn, business type, and colour. It is a quick online logo maker since its four-step process allows you to swiftly generate logos.
First, choose your brand industry, then choose the logo, then edit the logo and adjust the layout, and last save your logo design and download the logo free. You can save the logo in JPEG, PDF, PNG, or SVG format.
The Placeit logo cannot be downloaded for free. You have the option of purchasing a single download or subscribing to receive a 50 percent discount on all downloads. Placeit is a costly DIY logo service compared to others.
Adding your brand name and modifying the logo's colours and style to make it your own is also incredibly simple; simply enter your brand name.
You can also use their vast selection of mockups and social media themes with your newly produced logo.
Logo Genie is another another free logo maker website that allows you to create gorgeous logos for free. It gives the DIY editor metallic finish effects and special symbol effects from the site. It provides three steps to the designing process: first, you select your company's category, then you insert text, and last, you download your design logo.
Some features include the ability to simply change the colour, orientation, and size.
Logo garden is yet another free online logo maker that allows you to build your own logo for free. It makes logos using DIY (Do – it – yourself) and design logos with handy stages. First, you select your company's category, then put the selected symbol, and finally tweak colour and text.
Squarespace provides a variety of services for online businesses, including all the tools necessary to create a website. You can browse icons and edit your design using their free online logo builder, whether you're seeking for inspiration or an entirely unique logo. Download the low-resolution version of your design for free, or purchase the high-resolution version for $10. Customers with a Squarespace subscription can get the high-resolution file at no cost.
The website has features such as shiny finish and ultimate symbol effects.