August 21, 2019
Best Reverse Image Search Tools
Reverse image search is the process of recovering a photo on the basis of a sample image provided. Through the tools mentioned in this article, you can search for better resolution or better details than the original one you have. They are also ideal for finding out fake profiles across multiple social channels. If you are the original one, you can take proper measures in terms of submitting complaints or taking legal action, or you can use these tools to find a better or larger version of an image across the web.
Here are the top tools to perform a reverse image search.
TinEye Reverse Image Search Tool
This is a top of the line web app with better features and reviews. Besides finding a similar image, it also gives proper information regarding the source of the image by using image identification technology. It has extensions for Chrome, Safari, and Firefox as well and provides both free and premium memberships. The free version only allows about 150 weekly searches.
Plus Side:
Its browser based extensions save a lot of time as you can reverse search an image by just clicking on an image, without going to their actual website.
Image source is easy to find.
Provides an option to save your previous searches for registered users.
Better sorting feature makes this app more popular.
It provides a switch button to compare an image result with your original uploaded image.
They have better and improved algorithm for reverse searching an image.
This tool is considered best for finding copyright violations for selected images as you can find its origin easily.

Minus Side:
In my experience, sometimes google reverse image search, produces better results. It only happened a few times and beside this, it worked fine.
It does not give you a keyword option to describe an image.
You have to buy a premium version, if you want to perform more than 150 searches. Cost is around $200 per year, which is much for a person like me. 🙂
Let us perform a test using TinEye search. Go to https://www.tineye.com and you will see the following screen.
Now let us upload the following demo image. We will be using this image as an example throughout this article.
Tineye produces 25 similar image results.

Here is a screenshot of individual result.

Google Reverse Image Search
Google image search was initially launched back in 2001 and since then it has grown exponentially. This is my favorite tool and the reason for this is its interface and better accuracy. Google is the largest internet company in the world and has the maximum number of users as compared to other search engines due to its unbeatable search prestige. So, here is how you can use Google reverse image search on your console.
Plus Points:
It has a very easy to use interface because you just have to drag and drop an image or provide an image url and that's it.
Provides additional option to search through keyword.
It is a state of the art free tool and has an outstanding interface on mobile devices too, where the results are just a distance on a single screen tap.
Minus Points:
As indicated in the test case, sometimes the results are not as accurate as they should be.
If you have a huge number of images to reverse search, according to my experience, it can take slightly more time because it produced image sizes are too low and occasionally you have to click on the image and go to the site on which the image is, to find a larger more descriptive image.
Go to https://images.google.com and click on the camera icon shown below.

After that upload the image file, we are using as an example.
Here are the results:
Yandex
There is lots of debate about whether Google or Yandex is better and there are huge numbers of people who rank the index a bit higher than Google because, according to them, when there is an occasion for reverse searching for photos of people, Yandex performs better. Yandex is basically a Russian-based tech company which primarily focuses on search and other web-based products. Its interface has a somewhat resemblance with that of Google. Like Google, you have to upload the desired image which you want to reverse search for and you can also provide the relevant keyword for more closed down results. You can use its interface as follows.
Plus Points:
It is more accurate when it comes, the people search.
Beside people photo search, it is an equal competitor of Google, Bing and Tineye.
It is very efficient in identifying objects and backgrounds and differentiating between them. That's why it gives better results with a similar object having different backgrounds.
To make a test, go to https://yandex.com/images/ and here you will see the following screen where you have to click on the camera icon.
Then upload the image file in example.

And here is the result generated through yandex.
Depositphotos:
It is one of the top stock photo markets, which is well established and has been in business for more than 10 years. It has millions of stock free photos and also offers premium membership. As far as reverse image tracking is concerned, Depositphoto offers a valuable search option, along with a general search.
For making a test, go to https://depositphotos.com and click on the same camera icon. Upload the test image we are using as an example and depositphotos will produce the following result.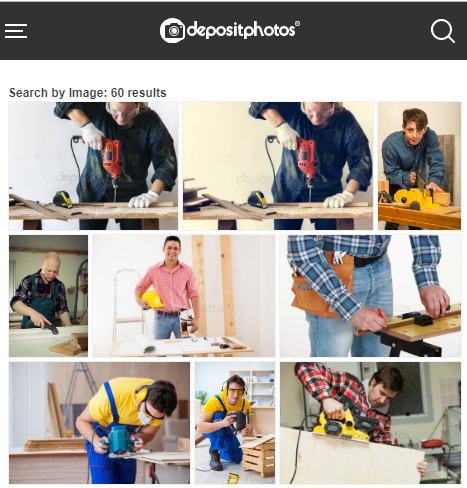 Plus Points
It has an outstanding search algorithm which produces accurate results.
Image identification is also very good and, after performing various tests, I observed that it is very good at identifying people as well as objects from the background.
Minus Points:
Its biggest minus point is its database size, as compared to Google and Yandex. It only searches through its own collection, so the number of results is not that much more diverse as compared to its competitors.
Bing
Microsoft launched its Bing image search engine in March 2014 and since then it also has the capability of reverse searching for an image. Bing also provides this option in its apps for Android and iOS, while it is not available in some countries.
Comparing its results, it is not that much accurate as google. Still, you may find the option you are looking for. Here is the bing result of the same image we are using as an example in this article.
Bing also provides app for both iOS and Android.
Best chrome extension for reverse image search:
PhotoTracker chrome extension. It actually uses four engines for reverse image searching, i.e., Google, Bing, Tineye, and Yandex. While it's not a search engine of its own, it provides the results from all the top ones in one place.
Plus Side:
Other than just reverse image search, it also gives information about the author and guess what is in the image or what this photo is about.
In case of a product, it also gives proper information regarding the stores which are selling the same product.
Better support provided by the team.
Multilingual Support.
Minus Side:
Not many languages are supported.
Don't have their own search engine as well, which makes them 100% dependent on external bodies. They don't have control on their algorithm which means that any downside on their part will also badly impact this app as well.
Top android apps for reverse image search:
The app named, "Reverse image search" is top of the line app, when it comes to Android. It utilizes Google, Tineye and Yandex for image reverse search. It has a user friendly interface and also provides an option for editing the image, before even searching for similar images. It also provides share options to share the image on multiple social channels. Safe search filter option is also available in this app.
Next is the reverse image search tool for Google which, as the name indicates, makes use of the Google search engine to deliver results. Its major features include, searching directly from camera photos and also searching through image url. Additionally, image reverse search through keyword facility is also provided in this app.
Last one in the list is Reversee. It is a free application to reverse search images and photos with great ease because of the applied material design.